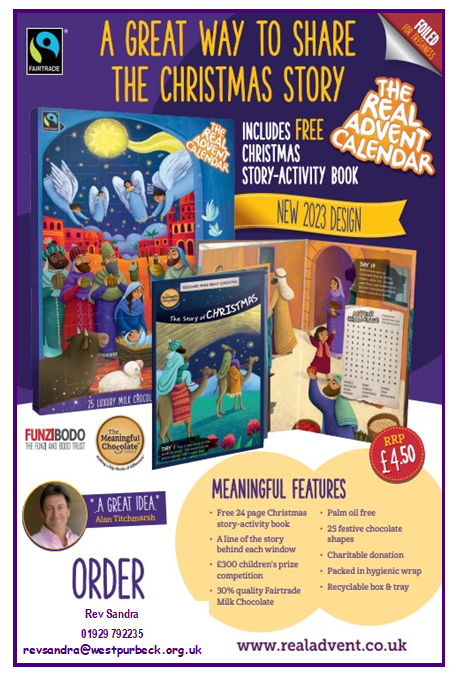 Advent calendars and many more chocolate treats are now available from the Meaningful Chocolate Company.
Once you have taken a look at the website, please place your order through Rev Sandra, to reduce postage costs.
Find out more by looking at the vast selection here!
Rev Sandra
01929 792 235
revsandra@westpurbeck.org.uk
ORDERS MUST BE IN BY SUNDAY 5th of NOVEMBER
The Real Advent Calendar is the UK's only Fairtrade Advent calendar which comes with a free 24 page Christmas story-activity book and supports charitable causes.
The 2023 Real Advent Calendar is a fun way for parents, grandparents and Godparents to share the Christmas story. The 2023 calendar has a new design. There is a Fairtrade Chocolate and a line of the Christmas story behind each of the 25 windows. The free book has a page for every day of Advent, expanding on the Christmas story and includes some fun challenges.
The Real Advent Calendar is made using Fairtrade chocolate - giving producers a fair price and a cash bonus. Money raised from the sales of the calendar will also help provide care and support for mums and new babies in African villages supported by the Funzi and Bodo trust.
No other calendar enables parents and children to experience the Christmas story for 24 days, and be challenged to do some good in the season.